Flooring in Charlottetown, PE, for Any Room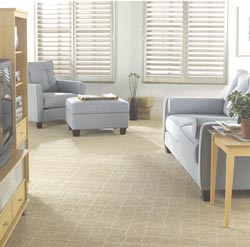 Many people underestimate the impact a new floor can have on a room until they see the transformation for themselves. With just one straight-forward change, you can give any room a brand new look while also enhancing its functionality. All you need is the right floor.
Flooring Canada Charlottetown is proud to be the place to shop to find the ideal surface for any room. With our diverse range of flooring in Charlottetown, PE, and our knowledgeable staff, we make transformations easy. Whether you're shopping for your home or your business, you're sure to find the surface you need at our local showroom.
Get a Perfect Match
Every surface has something different to offer. With products like vinyl and laminate, you can enjoy simple maintenance and a wide range of patterns. Carpet provides a unique, soft texture that feels great underfoot, while hardwood and tile lend value to your property for decades. Ensure you make the right choice for your room by browsing our showroom and consulting with our flooring store staff.
Visit our store at your convenience to see and feel our products in person. This will help you determine what best suits your project plans. Our team members are always available to answer any questions you may have about the different floor styles and specific brands.
Furthermore, we're happy to recommend surfaces to you based on your specifications. Talk to us about your aesthetic preferences, performance expectations, and price range. Based on the information you provide, we can narrow your search down to the flooring brands and styles that best suit you.
Professional Installation Services and Maintenance Advice
No matter what kind of floor you end up buying, you need proper installation and maintenance to get the most value out of it. Correct installation is crucial to ensuring that the surface not only looks great but also it well-protected against wear and tear.
When a floor is installed improperly, it is more vulnerable to damage that diminishes its longevity. Take advantage of our flooring installation services to make sure your surface is put in place properly. Our trained installers work quickly so that your room will be ready to receive guests in no time.
To help your floor retain its beauty, you must also perform the recommended maintenance. Upkeep needs vary widely between different surface styles and brands. Consult with our staff to ensure you are following the right cleaning and care instructions for your new floor.

Contact us to learn more about our diverse array of flooring products for homes and businesses. We proudly serve Charlottetown, Summerside, Souris, Kellys Cross, and Brackley, Prince Edward Island.