Your Go-To Store for Luxury Vinyl Planks in Charlottetown, PE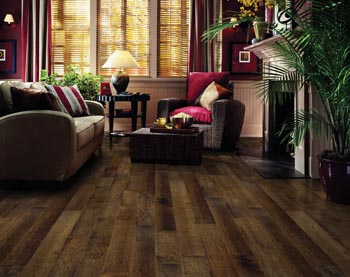 For generations, hardwood has been one of the preferred surfaces among homeowners. Its natural beauty and strength lend value to any property. However, it's not right for every room; wood doesn't work well in areas that tend to get wet. Fortunately, there's a way you can bring the look and feel of wood to every room in your house: luxury vinyl.
At Flooring Canada Charlottetown, we're pleased to offer one of the most robust collections of luxury vinyl planks in Charlottetown, PE. As you can guess from the name, luxury vinyl plank (or LVP) is a good-looking form of vinyl that's made into plank-shaped pieces. These planks are specially designed to mimic the appearance and texture of hardwood without the moisture concerns of real wood. Best of all, vinyl planks are affordable, leaving more room in your renovation budget for other projects. Talk to our flooring store staff today for more details on this unique vinyl style.
Design Versatility for Easier Renovations
Vinyl flooring is one of the most versatile surface options on the market, with any design possible. Our luxury vinyl plank floor collection includes products imitating all the popular hardwood styles. Whether you are looking for a dark wood, a light wood, or an iconic hue like cherry wood, we have options for you at our showroom.
Not sure what kind of flooring would look best in your room? No problem — our team members are here to help you find your ideal LVP product. Discuss your aesthetic preferences, practical needs, and price range with us, and we'll point you towards surfaces you'll love.
Luxury vinyl plank floor installation also comes with its own advantages. Vinyl planks can be laid down on virtually any surface, including existing tile and damaged subflooring. Consult with our installation crew to explore the possibilities for your home.
More Benefits for Homeowners
Vinyl planks have a lot to offer homeowners. For example, you'll appreciate how easier it is to keep your LVP floor clean. Sweeping, vacuuming, and mopping all work great. Best of all, there's no special maintenance needed beyond routine cleaning.
You'll also enjoy how soft vinyl planks feel underfoot compared to other hard surface floors. If you spend long periods standing, you'll definitely notice a difference. In addition, LVP provides good temperature insulation and soundproofing to make your home a more comfortable place to be. Find out more about the advantages of vinyl by visiting our showroom.

Contact our store for further information on our wide range of wood-alternative vinyl products. We proudly serve clients from throughout Charlottetown, Summerside, Souris, Kellys Cross, and Brackley, Prince Edward Island, as well as the neighbouring communities.